Jurassic World: Dominion Dominates Fandom Wikis - The Loop
Play Sound
Season One
Season One, Episode 1-21

First Aired
October 10, 2012
Episode Guide
previous
"N/A"
next
"Season Two"
Season One of Nashville premiered on ABC on October 10, 2012 and concluded on May 22, 2013. The season mainly focuses in a feud between Rayna Jaymes (Connie Britton), a legendary country music superstar, whose star begins fading and Juliette Barnes (Hayden Panettiere), the young and sexy future of country music. Between their feud, there's a political plot with Teddy Conrad (Eric Close), Rayna's husband, who wants to become Mayor with Lamar Wyatt's (Powers Boothe) help against an old family friend Coleman Carlisle (Robert Wisdom).
While all this happens in the spotlights of Nashville, Scarlett O'Connor (Clare Bowen) starts to write songs with her friend, Gunnar Scott (Sam Palladio) to become, maybe, a new country music star, despite the jealousy of her boyfriend Avery Barkley (Jonathan Jackson), a musician aspiring to make money with his band in Nashville.
Cast
Main Cast
Guest Stars
Co-Stars
Episodes
Image
Title
Original Airdate
U.S. Viewers
(in millions)

1. "Pilot"
October 10, 2012
8.93

Plot: Rayna Jaymes is a famous country singer, whose tour is not selling as quickly as she had expected. In order to save money, her record company wants her to be an opening act for up-and-coming singer Juliette Barnes. Rayna's company tells her if she doesn't go on tour with Juliette, they'll stop pushing her records. Juliette is revealed to constantly be called on the phone by her mother, who is a drug addict and wants money to feed her drug needs.

2. "I Can't Help It (If I'm Still in Love with You)"
October 17, 2012
6.74

Plot: As Teddy's campaign continues, Rayna is faced with an investigation that reveals family secrets. Juliette feels betrayed when she sees Deacon perform with Rayna. Scarlett must decide between her dream and her relationship with Avery.

3. "Someday You'll Call My Name"
October 24, 2012
6.54

Plot: Rayna learns the family is facing financial problems; Juliette asks Deacon to write and tour with her.

4. "We Live in Two Different Worlds "
October 31, 2012
5.74
Plot:

The arrival of a woman from Teddy's past tests his marriage; Juilette deals with the breakout of her actions to steal, Rayna and Deacon perform together.

5. "Move It on Over "
November 7, 2012
6.07
Plot:

Rayna thinks about moving on when Deacon sets boundaries in their relationship.

6. "You're Gonna Change (Or I'm Gonna Leave)"
November 14, 2012
5.93
Plot:

Rayna seeks the help of a music producer to change her sound; Juliette attempts to repair her image.

7. "Lovesick Blues "
November 28, 2012
5.69
Plot:

Marshall pushes for Juliette and Rayna to collaborate at an event; Teddy tells Rayna the truth.

8. "Where He Leads Me "
December 5, 2012
5.95
Plot:

Teddy's secrecy about embezzling millions of dollars in the past, and the surfacing of suggestive photographs, leads Rayna to believe he is having an affair. Meanwhile, Scarlett gets an invitation to be a band's lead singer and the song she wrote with Gunnar gets an option contract, prompting a passionate kiss between the two and Gunnar to dump his girlfriend and profess his love to Scarlett.

9. "Be Careful of Stones That You Throw"
January 9, 2013
5.92
Plot:

When Rayna suggests bringing her girls on tour, she learns Lamar is willing to blackmail her; Juliette and Sean's elopement surprises everyone; Deacon reconnects with an ex; Avery follows a music producer's advice.

10. "I'm Sorry for You My Friend"
January 16, 2013
6.54
Plot:

Rayna and Juliette prepare for their first concert together in San Diego. Rayna surprises Teddy by coming home from the tour to watch the votes come in and wait to see if he will become the mayor.

11. "You Win Again"
January 23, 2013
5.51
Plot:

To celebrate the success of "Wrong Song," Edgehill Republic throws a party. Deacon joins Juliette's band.

12. "I've Been Down That Road Before"
February 6, 2013
5.30
Plot:

Deacon plays his first show with Juliette. Juliette wants to change her sound. After Rayna asks Deacon why he joined Juliette's band, he kisses her. Gunnar moves in with Scarlett, and Teddy shows up at Rayna's hotel room and says something that will change their relationship forever.

13. "There'll Be No Teardrops Tonight"
February 13, 2013
5.74
Plot:

Rayna becomes overwhelmed onstage and finds comfort in her one-time musical collaborator Liam. Juliette makes changes on her tour and cleans house. Rayna and Teddy tell Maddie and Daphne about their plans to divorce; Maddie then tells her mom that she overheard her father talking to Peggy on the phone.

14. "Dear Brother"
February 27, 2013
5.20
Plot:

Juliette throws a surprise birthday party for Deacon and Rayna gets hounded by the press because of her divorce.

15. "When You're Tired of Breaking Other Hearts"
March 27, 2013
5.18
Plot: When Juliette plays a secret concert for her fans an accident happens leaving fans with minor injuries including Maddie. Gunnar wants to know who shot his brother. Rayna talks to Katie Couric about her divorce and Scarlett gets an offer to sign with Rayna's new label as a solo act.

16. "I Saw the Light"
April 3, 2013
5.54
Plot:

Juliette is jealous of Rayna when she sees her billboard in New York so she seeks out a sponsorship of her own. While on tour with her mom, Maddie decides that she wants to become a singer much to Rayna's disliking. Rayna meets Deacon's new girlfriend.

17. "My Heart Would Know"
April 10, 2013
5.96
Plot:

Rayna rushes home to Nashville to be there for her dad after he suffers a heart attack. Jolene and Deacon are not happy with her sponsor Dante, whom Juliette eventually hires as her manager.

18. "Take These Chains from My Heart"
May 1, 2013
5.27
Plot:

Jolene is suspicious of Dante after she sees him kissing another woman. Liam plays the Nashville show with Rayna and plans to spend the weekend away with her. Stacey questions Deacon if he still has feelings for Rayna. After discovering that the drugs that were found on Jolene were not hers, Emily says that some money is missing which leads Juliette to wonder about Dante. Rayna changes her mind about the trip and goes to tell Deacon that she still loves him. Gunnar gets an offer to record a demo.

19. "Why Don't You Love Me"
May 8, 2013
5.38
Plot:

Edgehill throws a party to celebrate Rayna and Juliette's CMA nominations for Female Vocalist of the Year. Rayna tells Teddy and Tandy that she is back together with Deacon, and Teddy tells her not to tell Deacon the truth about Maddie. When Deacon comes home to his house he is surprised to see Stacey there, she wants to get back together him with and he has to tell her that he is with Rayna now. Juliette turns to drinking to cope after what happen with Dante, and has Jolene concerned for her daughter. After Juliette goes on a rant Deacon quits her band. Teddy is having a tough time with Maddie.

20. "A Picture from Life's Other Side"
May 15, 2013
5.56
Plot:

Dante threatens to release a sex tape of him and Juliette if she doesn't give him ten million dollars. Juliette decides to give in and let him sell it.  Jolene refuses to let her daughter be humiliated so she calls Dante to meet up with her so she can give him 2 million for the SD card. Teddy serves Rayna will a restraining order stating that he doesn't want Deacon around the girls; Rayna finds support in Lamar. Scarlett doesn't like how Gunnar is trying to be like his brother and gives him an ultimatum. Maddie finds out that Teddy may not be her real father.

21. "I'll Never Get Out of This World Alive"
May 22, 2013
6.02
Plot:

Backstage at the CMA Awards, Deacon confronts Rayna and ask her if he is Maddie's biological father after Maddie tells him that he may be. Deacon and Maddie are furious when they find out the truth which leads Deacon back to drinking. Juliette wins Female Vocalist of the Year and pays her final respects to her mother. Teddy gets a call from the U.S. Attorney General and meets with up Peggy who has some shocking news for him. Gunnar proposes to Scarlett. When Rayna takes a drunk Deacon home they argue along the way and end up in a car wreck.
Episode List
Specials
U.S. ratings
| # | Title | Air date | Nielsen ratings (18–49) | Viewers (millions) | DVR 18-49 | DVR viewers (millions) | Total 18-49 | Total viewers (millions) |
| --- | --- | --- | --- | --- | --- | --- | --- | --- |
| 1 | "Pilot" | October 10, 2012 | 2.8/8 | 8.93 | 1.4 | 3.52 | 4.2 | 12.46 |
| 2 | I Can't Help It (If I'm Still in Love with You)" | October 17, 2012 | 2.0/6 | 6.74 | 1.3 | 3.09 | 3.3 | 9.83 |
| 3 | "Someday You'll Call My Name" | October 24, 2012 | 2.0/6 | 6.54 | 1.2 | 2.82 | 3.2 | 9.36 |
| 4 | "We Live in Two Different Worlds" | October 31, 2012 | 1.8/5 | 5.74 | 1.3 | 2.92 | 3.0 | 8.53 |
| 5 | "Move It on Over" | November 7, 2012 | 2.0/5 | 6.07 | 1.2 | 2.81 | 3.2 | 8.88 |
| 6 | "You're Gonna Change (Or I'm Gonna Leave)" | November 14, 2012 | 1.8/5 | 5.93 | 1.3 | 2.97 | 3.1 | 8.9 |
| 7 | "Lovesick Blues" | November 28, 2012 | 1.8/5 | 5.69 | 1.1 | 2.61 | 2.9 | 8.3 |
| 8 | "Where He Leads Me" | December 5, 2012 | 1.9/5 | 5.95 | 1.2 | 2.79 | 3.1 | 8.74 |
| 9 | "Be Careful of Stones That You Throw" | January 9, 2013 | 2.1/6 | 5.92 | 1.2 | 2.91 | 3.3 | 8.83 |
| 10 | "I'm Sorry for You My Friend" | January 16, 2013 | 2.2/6 | 6.54 | 1.1 | 2.63 | 3.3 | 9.17 |
| 11 | "You Win Again" | January 23, 2013 | 1.9/5 | 5.51 | 1.3 | 3.0 | 3.2 | 8.51 |
| 12 | "I've Been Down That Road Before" | February 6, 2013 | 1.7/5 | 5.30 | 1.2 | 2.76 | 2.9 | 8.06 |
| 13 | "There'll Be No Teardrops Tonight" | February 13, 2013 | 1.8/5 | 5.74 | 1.2 | 2.76 | 3.0 | 8.5 |
| 14 | "Dear Brother" | February 27, 2013 | 1.6/4 | 5.20 | 1.3 | 2.95 | 2.9 | 8.15 |
| 15 | "When You're Tired of Breaking Other Hearts" | March 27, 2013 | 1.5/4 | 5.18 | 1.1 | 2.66 | 2.6 | 7.84 |
| 16 | "I Saw the Light" | April 3, 2013 | 1.7/5 | 5.54 | 0.9 | 2.29 | 2.6 | 7.83 |
| 17 | "My Heart Would Know" | April 10, 2013 | 1.8/5 | 5.96[1] | 0.8 | 2.09 | 2.6 | 8.05 |
| 18 | "Take These Chains from My Heart" | May 1, 2013 | 1.7/5 | 5.27 | 0.8 | 2.33 | 2.5 | 7.6 |
| 19 | "Why Don't You Love Me" | May 8, 2013 | 1.6/4 | 5.38 | 0.9 | 2.19 | 2.5 | 7.57 |
| 20 | "A Picture from Life's Other Side" | May 15, 2013 | 1.6/5 | 5.56 | 0.9 | 2.23 | 2.5 | 7.79 |
| 21 | "I'll Never Get Out of This World Alive" | May 22, 2013 | 1.9/5 | 6.02 | 0.8 | 2.23 | 2.7 | 8.25 |
Albums released in or during the Season
Videos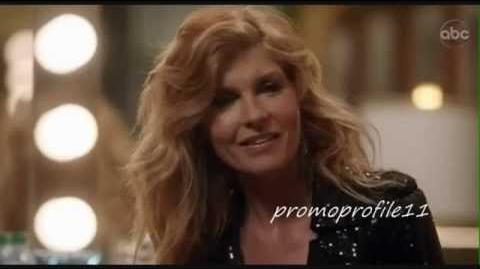 ↑ Cite error: Invalid <ref> tag; no text was provided for refs named 1.17